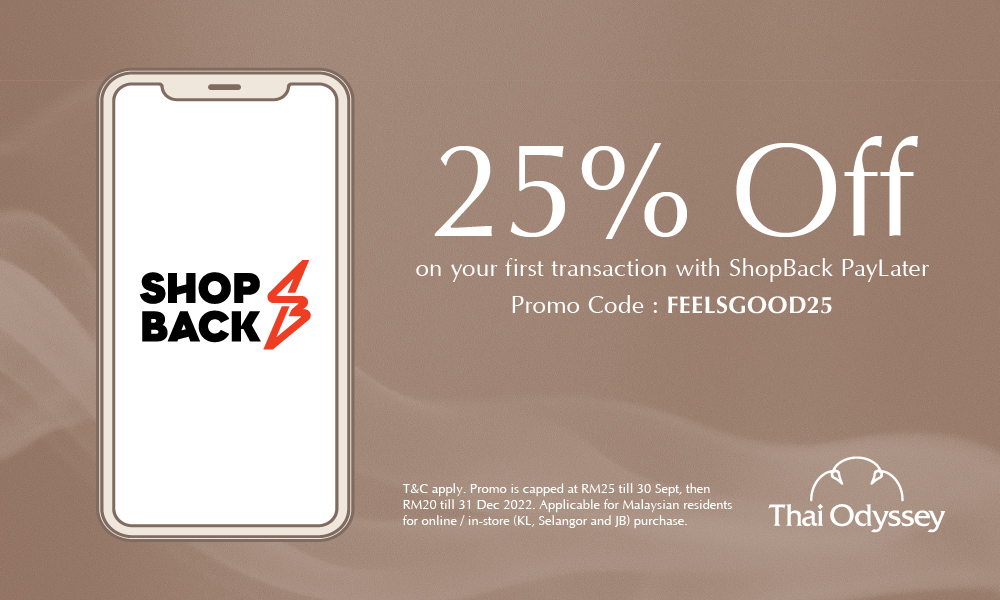 Splitting Payments Made Easier with ShopBack PayLater
Shop and pay in 3 interest-free instalments for your online or in-store purchases with us.
Published on 14 July 2022 and updated on 1 September 2022.
ShopBack PayLater is a platform that offers BuyNow PayLater (BNPL) solution that blends the convenience of quick-pay options with the flexibility of splitting payments into 3-month instalments with no interest and no hidden fees. That being said, we are excited to be invited by ShopBack PayLater to be one of their merchants to provide consumers with a safe and secure payment option to shop our services, vouchers, packages and products.
Beginning in mid-July for their mega launch in Malaysia and extending their current promo capped at RM25 till September, and subsequently capped at RM20 till December, ShopBack PayLater is giving away special discount code to every new registered user to celebrate the launch of ShopBack PayLater while moving to a year-end ShopBack ShopFest with lots of great promos lined up for 9.9, 10.10, 11.11, BFCM and 12.12! Simply download the ShopBack PayLater app to get 25% off on your first purchase with us using the promo code FEELSGOOD25, and your bill will then be divided into 3 monthly payments that will be automatically deducted from the default card that you have tied to your ShopBack PayLater account on the scheduled due date.
You can start shopping with us online at https://thaiodysseystore.com/ or drop by our KL, Selangor and JB outlets to purchase with 3-month interest-free instalment option today!
ShopBack PayLater 25% Discount T&C
1. Applicable from 14 July to 30 September (discount is capped at RM25), followed by 1 October to 31 December 2022 (discount is capped at RM20), and only for the residents of Malaysia who sign up as a new ShopBack PayLater user.
2. Valid at Thaiodysseystore.com and the participating outlets in Kuala Lumpur, Selangor and Johor Bahru.
3. Customers are required to scan the QR code in each outlet and key-in the promo code 'FEELSGOOD25' to redeem the offer before making payment via the ShopBack PayLater App.
4. A one-time charge of 6% SST will be incurred with every purchase of packages, services and service vouchers, excluding products and cash vouchers.
5. Applicable with any ongoing Thai Odyssey promotions, offers or discounts.
6. Not applicable with other ShopBack PayLater vouchers.
7. A registration fee of RM10 to join as a member of Thai Odyssey's Loyalty Programme will be waived when customer purchases any package.
8. Loyalty points will be given according to the price stated, based on RM1 is equivalent to 1 point excluding SST.
9. Loyalty points have a validity period of 24 months, from the month of package purchase.
10. Loyalty points will be forfeited after a period of 24 months validity.
11. Loyalty points will be accumulated when member's account stay active with the purchase of any item within the 24 months validity period, and date of validity will be updated from the month of member's last purchase.
12. Loyalty points are not transferable nor exchangeable for cash.
13. Member is responsible for the safekeeping of own account and password. If there has been an unauthorised transaction performed, member is required to notify Thai Odyssey immediately.
14. An OTP will be sent to the registered mobile number stated in the Thai Odyssey's membership account, for new setup of the account and update or recovery of password.
15. Customers are encouraged to call for an appointment and only a 10-min grace period is allowed for late arrival. After which, the reserved slot shall be given to another person on the waiting list.
16. Customers may contact ShopBack PayLater Support Team for any enquiries.
17. Thai Odyssey reserves the right to amend the Terms & Conditions at any time without prior notice.