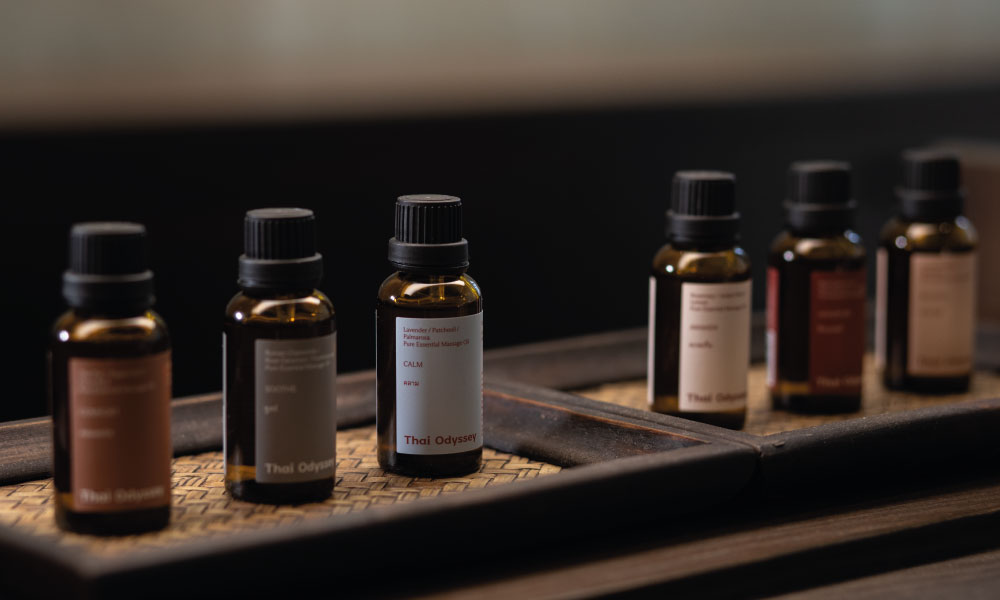 Enhancing Wellness with New Massage Oils.
Refining the essential massage oil series for a better aromatherapy experience.
Published on 28 January 2022.
As the saying goes, out with the old, in with the new. Let's ring in the New Year with the finest aromatherapy experience in town, as we have recently refreshed our aroma oil selection with a series of pure essential massage oils that are carefully sourced and thoughtfully crafted to bring customers a more relaxing and rejuvenating experience. The reformulated massage oil series will help to ease any tiredness and calm the stressful mind and body.

Enriched with an aromatic blend of pure and natural essential oils from Australia, our new line of massage oils has been fine-tuned with pro-environmental efforts in maintaining sustainability to protect the Mother Earth. These massage oils come in 6 different scents, each with unique attributes and chock-full of benefits.
Awaken
Made with a mixture of mainly rosemary, lemon and juniper berry oils, the Awaken enhances detoxification process, which is absolutely perfect for anyone who needs a quick reboot, as it helps to reduce fatigue and tiredness brought on by late nights, jet lag, hangovers or menstruation.
Balance
The Balance helps to improve breathing and speed up recovery of delicate or irritated skin with a combination of mostly jasmine, sage and geranium oil blends. It's also able to aid in achieving hormonal balance during menstruation or menopause.
Calm
The Calm, as the name itself suggests, is a well-rounded remedy that helps to attain calmness, comfort, and relaxation while helping individuals to slow down and unwind with the soothing scents of mainly lavender, patchouli and palmarosa.
Comfort
The Comfort has been delicately infused with a curated blend of mostly Thai plai, clove bud, and a dash of peppermint that has a cooling effect on sore, achy muscles, which is an ideal choice for those who are sporty or deskbound that suffer from overexertion to find inner peace and tranquillity.
Signature
Packed with the goodness of mainly rose damascena, rose geranium and cananga, our Signature contains powerful anti-ageing properties to help maintain youthful, glowing skin while improving circulation and sluggishness.
Soothe
The Soothe is soaked in a fusion of mostly Roman chamomile, rose geranium and frankincense that promotes healing of devitalised skin and the reduction of scars and stretch marks, which is certainly the best fix for moody and gloomy days. Besides, it's also recommended for pregnant and breastfeeding women!

The new massage oil series will be used in our Thai Aromatherapy Massage, one of our bestsellers, where customers are given the choice to pick their favourite scent to be applied on their body for an enhanced aromatherapy experience. Our Thai Aromatherapy Massage is reasonably priced at RM158 for a 60-min session; RM198 for 90-min; RM228 for 120-min, and it brings remarkable benefits to both physical and mental health. Apart from encouraging circulation, it also helps to relax tight muscles and stimulate the mind towards a more positive direction.

Alternatively, the 180-min Ultimate Thai Odyssey treatment is available for anyone who seek a more luxurious spa experience with the price of RM428 for single, and RM768 for couple. The treatment suite ensures complete privacy and the entire session begins with a refreshing foot bath to pamper exhausted feet, followed by a full body exfoliation to help brighten dull, tired skin. Then, the guests will immerse in a dreamy milk bath that leaves skin feeling smooth and supple. Ultimately, the treatment ends with a relaxing Thai Aromatherapy Massage that incorporates the use of our new massage oil series.

Thai Aromatherapy Massage is available in all outlets nationwide while the Ultimate Thai Odyssey is only available in selected Thai Odyssey outlets in Malaysia. For reservations, click https://www.thaiodyssey.com/reservation.

Stay tuned to our website and social media channels for more product launches in 2022!
*All prices stated above are subject to 6% SST.